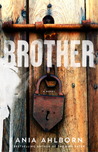 Brother by Ania Ahlborn
My rating: 5 of 5 stars
I stayed up until 2 a.m. finishing this book because I just could not stop reading. Then I was in bed another hour thinking about it. My friend Kim first recommended this to me. Her review is here. Then, my friend Kelly read it. Her review is here. They both 5-starred this baby and now, so am I.
This is one of the best horror books I have ever read. Michael lives with his family and they are serial killers. He doesn't like his life, but he goes along and does what he is told. He meets a girl and suddenly realizes he wants to escape his family and leave with her.
That is basically all you need to know before diving into this. It's brutal and disturbing, put I couldn't stop reading. It's more than just slasher horror. It's a story about multi-generational child abuse, loneliness, apathy, mental illness, LOVE. I mean, there's so many layers going on with this story. I highly recommend it to horror fans looking for something more complex and layered. I liked how easy it was to read, even though the subject matter was completely crazy.
I started out feeling so sorry for Michael and then I hated him for being such a pussy. The author does a great job of making you feel just a tiny bit sorry for the vicious characters because of what they went through as a child. But of course, that sympathy only goes so far. I wanted them to suffer. I hated them all.
It was a satisfying and riveting read. My emotions were all over the place. I just freaking loved it!
Thank you Netgalley and publisher for the chance to read and review this book!
Review also found at:
https://theparanormalpaladin.wordpres…